EdgeStar 6 Place Setting Countertop Portable Dishwasher
The Edge star 6 Place setting countertop portable dishwasher is an attractive dishwasher that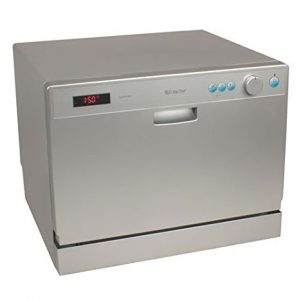 comes in the colour Silver. However it's good looks are not it's only attractive features, it is also
small and portable compared to other common dish washers. If you are in a dilemma on what
brand of Dish washer to purchase for your Kitchen, just sit back and relax as I take you through
the details of this EdgeStar 6 Place Setting Countertop Portable Dishwasher starting from the
contents of the user manual, to the claims of the manufacturers and up to the opinions of other
people who have purchased this Edgestar dishwasher and those who have previously reviewed
this product.
The Specifications for EdgeStar 6 Place Setting Countertop Portable Dishwasher
 The dishwasher is very portable and can be put on a counter.
 The model is DWP61ES .
 There are 6 place settings .
 It has a 10.5 inch maximum Diameter of place Settings.
 There are 6 Cycles.
 The cabinet color is silver/platinum.
 Accessories: There is a quick connect adapter, a 5 inch hose, a dish rack and a silverware
basket .
 The maximum water temperature is 65°C (cold water).
 It consumes 3.8 gallons of water (Normal Wash).
 The spray arms are plastic.
 There is a Drain Pump.
 The interior is stainless steel (304 for inner door and bottom, 430 for other sides).
 The Voltage/Frequency is 120V/60Hz .
 The input power is 1160W.
 The current is 10.7A.
 It has a 24 hour Timer.
 Dimensions: H x W x D 17 3/16" x 21 11/16" x 19 11/16".
 Box Dimensions: H x W x D: 20 3/8" x 23 13/16" x 21 7/8′.'
 It weighs 48.5 lbs.
 Its operating temperature is 55°C normal wash.
 Non-operating temperature (storage): normal temperature.
 The noise level is at 55±3dB.
2
Other Features
 It is a low-profile countertop dishwasher that can also fit in and under most cabinetry.
 It has a digital control panel with LED display which makes it very easy to operate with
no unnecessary complexities.
 It can hold plates up to 10 and half inches in diameter
 It has a dish rack, cup shelf, and cutlery basket in it.
 It heats up to 149 degrees Fahrenheit which is good for sanitizing the dishes.
 This dish washer is 21and three quarter inches high.
 You may choose from 6 different wash cycles; heavy, normal, light, glass, rinse and soak.
 The heavy cycle can heat the water up to 149° F/65° C.
 The automatic built-in dispensers, deliver rinsing aids and detergents and avoid water
spots on glasses.
 It has a delayed start feature that allows you to wash the dishes whenever you want even
after loading the dishwasher.
 It has a child lock function for safety reasons.
 It shows the time remaining until the end of the wash cycle.
 The input voltage is 120V / 60Hz.
 The power is 680W / 5.72.
 The interior is stainless steel.
 It has a quick connect adapter for most kitchen faucets.
 It has a rinse agent dispenser.
 It has a spray arm for extended durability.
 It has a 1 year warranty for spare parts and 90 days warranty for labor.
Warranty
The Edge star 6 Place setting countertop portable dishwasher is warranted by EdgeStar to be free
from defective workmanship and materials.
 Labor: For a period of NINETY (90) DAYS from the date of original purchase, labor will be
performed free of charge at an authorized EdgeStar repair facility. At its option, EdgeStar
will repair the product with new or remanufactured parts, or exchange the defective product
with a new, refurbished, or remanufactured product. If a product is replaced, it will carry the
remaining warranty of the original product. After the ninety (90) day period, EdgeStar will no
longer be responsible for labor charges incurred.
 Parts: For a period of ONE (1) YEAR from the date of original purchase, EdgeStar will
supply new, rebuilt, or refurbished parts free of charge.
All defective products and parts covered by this warranty will be repaired or replaced on a mail-in
basis to an EdgeStar authorized repair facility
3
If you believe your product is defective, contact EdgeStar Customer Support for troubleshooting
assistance and warranty service at 1-866- 319-5473 or visit their website edgestar.com. Please have
your serial number and proof of purchase available.
Why Buy It?
Judging from the specifications, features and opinions we would later read, the answers are
pretty simple and obvious;
 A common problem, especially in my home is that after doing the dishes the glasses
always have water spots. This problem will now be history because my research has
showed me that the EdgeStar 6 Place Setting Countertop Portable Dishwasher's built-in
rinse agent in the dispenser helps to minimize water spotting on dishes, while an internal
water heater and the heavy wash cycle eliminate germs and bacteria by boosting water
temperature up to 149 degrees Fahrenheit.
 It is child friendly. If you live with children under the age of Eight, this dishwasher is the
best choice for you. Why you ask? This is because it incorporates a lock function for
safety. That way when your child walks into the kitchen you don't have to panic.
 It has an attractive digital display and an overall simple and attractive appearance
therefore aiding the decoration of your kitchen.
 It aids time management through the delayed start feature, that way you determine when
to start washing. It also shows the time remaining until the end of the wash cycle thereby
encouraging and giving room for multi-tasking.
 Its compact design and portability make it ideal for small-size kitchens.
 It saves you the trouble of plumbing connection to a water source thereby saving money.
 The price is affordable and will not hurt your budget.
 It is a long term investment, and even in the event that the Edgestar 6 Place setting
countertop portable dishwasher gets damaged before one year elapses, the manufacturers
have provided a warranty cover that will enable you get spare parts for free.
 There is a wide range of washing cycles to adapt to your needs. The heavy, normal, light,
glass, rinse and soak cycles provide variety which accommodates different degrees of
dirty dishes, so no matter how sticky, oily or dirty your dishes are, this Edgestar
dishwasher will come to the rescue.
 It is a relatively quiet washing machine, so it doesn't distract you as you go about your
other chores or activities. It also gives the kitchen a respectable air where you don't have
to shout over the noise and maybe pour spit into the food or cutleries. We can safely say
it promotes a clean and hygienic environment.
 Also, its water conservation level turns it into an ideal appliance to save water. So its not
just using water but also storing it?
4
According To The Manufacturers;
"Our products have a focus on portability and innovative use of small
spaces, while keeping an emphasis on quality construction and attentive
customer support."
What Other Buyers And Reviewers Are Saying;
 The EdgeStar 6 Place Setting Countertop Portable Dishwasher is not noisy and it operates
at a comfortable 'medium-quiet' volume. On the other hand it's smaller so it does smaller
loads.
 Its Price is under 300 dollars cheaper than most good standard-size machines.
 Due to a lack of compatibility between the provided hose and the sink faucet, consumers
have complained of water leakage.
Where Can You Buy this EdgeStar Dishwasher?
If you've decided to choose the Edgestar dishwasher you can purchase it at;
 https://www.edgestar.com/dishwashers/

https://www.amazon.com/gp/product/B005NK21MM/ref=as_li_qf_sp_asin_il_tl?ie=UTF
8&camp=1789&creative=9325&creativeASIN=B005NK21MM&linkCode=as2&tag=dis
hwguide-20&linkId=UBOOER4L45OY3F4U
 Any of the Living Direct Network of retail websites
Replacement/ Spare parts can be found online at EdgeStar.com. Common replacement parts can
currently be ordered, with new parts being added regularly.